A growing number of states have introduced legislation to protect election workers after investigations found former President Donald Trump's supporters have sent hundreds of threatening messages to officials since the 2020 presidential race.
Bills recently introduced in Vermont, Maine, and Washington aim to either create stricter penalties for those who threaten election workers or make it easier to take the issue to court.
The legislation comes after Reuters published an investigative report last month documenting more than 850 hostile messages sent to U.S. election officials since 2020. Among those, nearly all of the messages reiterated Trump's false claim that the presidential election was stolen due to voter fraud. Over 100 of them met the standard of a "true threat," meaning that the harassers could be criminally prosecuted for seeking to cause violent harm, according to the report.
In Maine, Secretary of State Shenna Bellows called the findings of the report "unacceptable" while issuing support for a new bill that would make place harsher penalties on anyone who "intentionally interferes by force, violence or intimidation" with election administration, according to Reuters.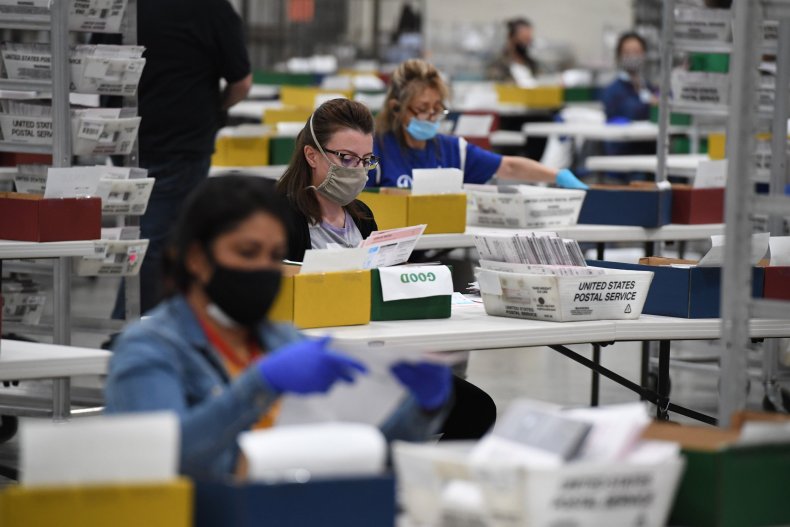 Meanwhile, in Washington, state senators voted this month to make harassing election workers a felony, with a penalty that could range as high as a five-year prison sentence and $10,000 fine, Seattle news station KING-TV reported. And in Vermont, lawmakers are now considering legislation that would make it easier to prosecute harassers for criminal threats and to toughen penalties when it involves a public worker.
"Whether it's our staff, #VT Town Clerks, or election workers in other states, no one should have to face violent threats, intimidation or fear for their life while working on behalf of our democracy," Vermont Secretary of State Jim Condo's office tweeted Monday.
Condo had received a series of menacing voicemails, including being threatened with execution by a firing squad, the Brattleboro Reformer reported in December 2020.
"While these voicemails were the first that rose to the level of reporting to law enforcement due to the specific acts of violence mentioned and threatening nature of the calls, they are merely the extension of a pattern of vitriolic, often obscene, calls that our staff have had to endure during this election year," Condo told the Reformer at the time.
To address growing issues of harassment against election officials, U.S. Attorney General Merrick Garland launched a Department of Justice (DOJ) elections task force in June. On Friday, the task force announced its first indictment, charging a Texas man for allegedly posting several online death threats against election officials in Georgia.
Chad Stark, 54, was arrested and charged with one count of communicating interstate threats after allegedly posting on Craiglist and calling for the murder of an election official in exchange for $10,000.
John Keller, Principal Deputy Chief of Justice Department's Public Integrity Section, told Newsweek on Friday that most threats are coming in the form of "emails, text messages, voice mails or calls, or commentary on social media."
The task force works with the FBI, local law enforcement, U.S. Attorney's offices and the election community in order to protect officials from ongoing threats.
"A threat to any election official, worker, or volunteer is, at bottom, a threat to democracy," the task force said in June. "Election officials must be permitted to do their jobs free from improper partisan influence, physical threats, or any other conduct designed to intimidate. The Department of Justice has a long history of protecting every American's right to vote, and will continue to do so."
Newsweek contacted a representative for Trump for comment.