Good morning, and welcome to our rolling coverage of the world economy, the financial markets, the eurozone and business.
The markets are on edge today as fears of imminent Russian military action in Ukraine rise, hitting stocks and pushing oil to a seven-year high.
Brent crude, the international oil benchmark, hit breached the $96/barrel mark for the first time since September 2014, as geopolitical risks over Ukraine ripple through global markets.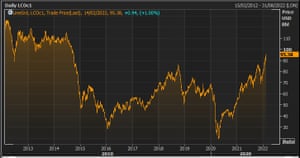 Oil jumped as traders anticipated that a Russian invasion of Ukraine would disrupt energy exports. That would cause disruption at a time when the market is already tight with demand rising and supplies stretched.
Such a supply shock would rattle economies emerging from the pandemic, driving inflation even higher, while the broader financial system could be rocked if sanctions are imposed on Russia.
As Kyle Rodda of IG explains:

Markets are preparing for the risk of war in Europe, and it's adding to the complex of issues driving uncertainty and volatility in global markets currently.

US reports on Friday suggested an invasion by Russian into Ukraine could come as soon as this week – earlier than expected, because it's been thought the Russians would avoid making such a move before the end of the Beijing Olympics to placate the Chinese – with further reports today suggesting Wednesday may be the planned day.

From a humanitarian point of view, international relations pundits suggest this could be catastrophic. For the markets, the concern is about the impact such a conflict will have on fragile energy markets, Europeans economic growth, and the broader financial system if sanctions are slapped on Russia
Friday night's warning by the US of the "very distinct possibility" of a Russian invasion of Ukraine soon has rattled investors, hitting stock markets.

With talks between Joe Biden and Vladimir Putin by phone over the weekend failing to ease tensions, risk sentiment is souring. Stocks markets across Asia-Pacific have fallen sharply, with Japan's Nikkei has lost 2.2% and China's CSI 300 index is down over 1%.
European markets are set to open lower, with the UK's FTSE 100 index currently expected to drop around 1% when the market opens at 8am in London.
The German chancellor, Olaf Scholz, will travel to Kyiv today, as western governments step up their diplomatic push to avert a Russian invasion of Ukraine.

On the eve of his departure, Scholz said that any Russia attack would lead to "tough sanctions that we have carefully prepared and which we can immediately put into force".
He said:
"(These trips are) about how we can find a way to ensure peace in Europe,"
Scholz will then visit Moscow on Tuesday to press home the economic cost of a Russian invasion of Ukraine.

Here's our latest news story on the Ukraine crisis:
Investors are already jittery about inflation, with prices rising at the fastest rate in 40 years in the US, and 30 years in the UK. That's expected to push interest rates higher this year, with America's Federal Reserve expected to hike borrowing costs up to seven times in 2021.
The agenda
7am GMT: China's Foreign direct investment data for January
Noon GMT: India's inflation rate for January
4.15pm GMT: ECB president Christine Lagarde speech at the European Parliament on the 20th anniversary of euro banknotes and coins