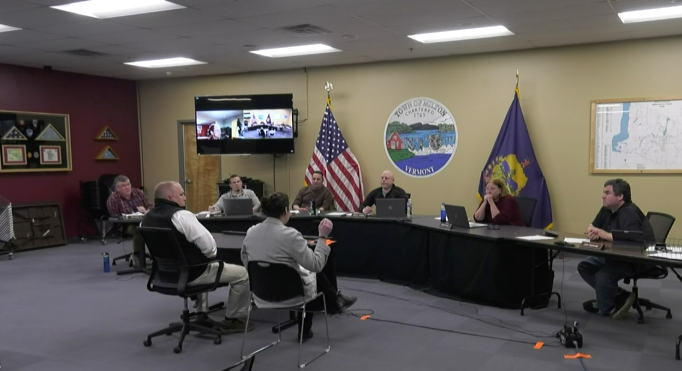 At the selectboard's March 21 meeting, the town announced one new hire and approved another.
Milton's new Finance Director RaMona Sheppard was introduced to the board with one week on the job under her belt. The selectboard also appointed the town's first full-time Rescue Chief Sean McCann.
New Finance Director
Sheppard comes on board with the town with many years of experience, most recently spending three years as Vermont Public Radio's chief financial officer and before that spending eight years as the Town of Underhill's director of finance.
Sheppard went through an extensive process to be hired, Milton Town Manager Don Turner said at Monday's meeting. She was interviewed by finance staff, the town clerk, the town treasurer and other department directors.
"Ramona prevailed and we're happy to have her with us," Turner said. "She's already been here a week and she hit the ground running, and we're pleased to have her here."
Sheppard said the interview process was a great opportunity to get to know the culture of Milton and the town offices. She said the past week has been mostly getting to know everyone and understanding how everything operates.
Sheppard said she is looking forward to getting to know the town and the members of the selectboard as they work together.
Full-time Rescue Chief
McCann, who was appointed as Milton's full-time Rescue Chief, comes from Jericho and holds a Vermont AEMT license. He was previously the financial controller for Essex Rescue and a volunteer Assistant Chief for Underhill-Jericho Fire Department.
McCann also went through an extensive hiring process. The town received 10 applications in response to its advertisement which were then whittled down to five for interviews.
McCann went through two rounds of interviews with a panel consisting of Director of Public Safety Michael Foody and the rescue department officers. 
The panel assessed his EMS experience, leadership experience, certifications, community engagement, teaching ability, communication and collaboration.
"We had a lot of really good candidates, but Sean McCann definitely outshined them all," Foody said at the meeting.
McCann told the selectboard he's excited for the opportunity to work with Milton and continue to put his 12 years of first response experience to use.
McCann takes on the rescue department with the stated goal from the selectboard to increase and retain membership.
"As far as how to do it, I have learned over the last few years both at Essex and Underhill-Jericho, some people use it as a stepping stone to go to a bigger fire department or to medical school or whatever it might be. But I think you retain your folks by making it a desirable place to be," he said. "And by that I mean like a second home. If they are going to spend 12 hours or more depending on how many shifts they have, they need to want to be there." 
McCann also said that community outreach will be one of his big goals in this new role, whether it's going out on Halloween delivering candy or working with the library and the schools.
McCann said he will be taking at least two duty shifts on top of the administrative work that needs to be done, he said.
McCann said that he is still going to continue his duties with the Underhill-Jericho Fire Department, but that he climbed as far as he wants to go over there and that his loyalties and time is primarily with Milton.
"If anything, I'm happy to see my current chief finish out his tenure and then I'd think I'd like to take a step back. Not from answering a call or being a regular firefighter, but as we'd say a black helmet, I think I'd be happy to do that," he said.
This position is set to be financed with American Rescue Plan Act funds until June 30, 2022, when the position will be funded by the approved Fiscal Year '23 Rescue Department General Fund Budget.
Selectboard member Brenda Steady made the motion to appoint and it was unanimously approved.